Leonardo DiCaprio. A story of success in Rahu and Jupiter Mahadasa

Slava ॐ
Practical astrology
16 June 2023
5 min
0
actors, ashtakavarga, transits, Vimsottari Dasa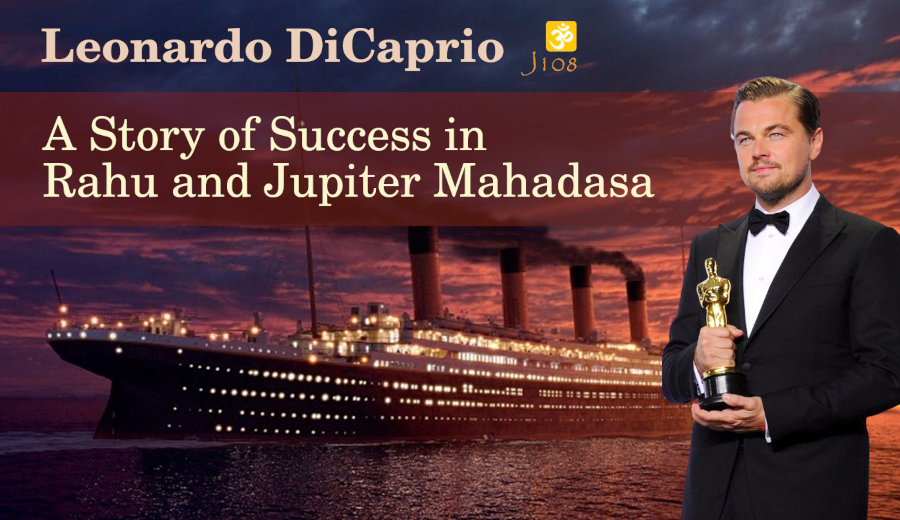 Not many Hollywood actors are as famous and recognized as Leonardo Dicaprio. Although he has got an Academy Award once only, his talent is so great and success of the movies he starred are so tremendeous, that it won't be a mistake to call him one the most successful actors of his generation. He has been nominated for numerous awards throughout his career, including five Academy Award nominations, and he won his first Oscar in 2016 for his performance in "The Revenant". Let's take a look at his horoscope to see what made him so successful and highly recognized.

Amber subscription
Chart management
Chart reports and interpretations
Horoscope matching
Vargas up to D-60
Varshaphal, Prasna, Muhurta
4 Dasas with up to Pratyantardasa
Basic Gochara and Panchanga search

Emerald subscription
Everything in Amber +
Transsaturns, Upagrahas
Vargas up to D-150 and all Chakras
Mathematical rectification technics
All Dasas with up to Sookshmadasa
Full-featured Gochara, Muhurta, Panchanga search
Detailed Ashtakavarga calculation, Shadbala

Ruby subscription
First things first: before we start analysing the horoscope we need to collect his birth details and make sure they are accurate. So, from AstroDatabank we know that his birth date and time has AA Rodden rating (B.C. in hand), which means that it's very accurate and reliable enough to analyze divisional charts up to Navamsa (D-9). Higher divisions would require us to go into granular rectification, but this article is not about rectification technics, so let's keep things simple.
His Lagna is Virgo, a Mercury sign, and its lord occupies the 2nd house in Libra along with Mars, Sun and Venus. Mercury and Venus form Raja Yoga, since Venus is the lord of the Trikona house (9th) and Mercury is the lord of the Kendra house (1st and 10th). Moon is in Lagna and without any aspect from malefic planets, and that gives him charm. The fact that 4 planets are in the 2nd house make his personality very attractive and passionate, which is very important for an actor. Saturn is the 10th house made him hardworking and goal oriented. And what about Jupiter? It's a lord of the 7th house located in the 6th house of diseases, in the inimical sign of Saturn. And it gets only 80 % strength in Shadbala (5.5 Rupas). You will be suprised to know that Jupiter Mahadasa brought him to the top of his career. Let's see what hidden factors made it possible.

Prefer North (Diamond) chart style?
Sign up
and choose it in the setting - takes less than a minute!
To make things clearer, we need to start with Rahu Mahadasa, which preceeds Jupiter Mahadasa. It was Rahu \ Moon period, when "Titanic" was nominated for an Oscar, where DiCaprio played a leading role. That picture carved a path to the alley of fame for him. Rahu is very powerful here. If you take a closer look you can see that Rahu is in Jyestha Nakshatra, whose lord is Mercury. Rahu is in the 3rd house, which is one of the best houses for this graha. It falls in Scorpio sign. The lord of Scorpio is Mars. Both Mercury and Mars are in the 2nd house. They are strong because of the Raja Yoga in the 2nd and also because there are 2 powerful Jaimini Yogas, which are formed by the conjuctions of Atmakaraka (AK), Putrakaraka (PK) and Darakaraka (DK). And Mars is in Swati Nakshatra, whose lord is Rahu. Thus, grahas glue together. Moon, the lord of the Antardasa and 11th house of fame, is in Lagna. The period was bound to bless him with recognition.
Now, let's go further. In 2 years after the "Titatic" success, DiCaprio entered Jupiter Mahadasa and kept climbing higher in his career. Jupiter, might be looking deceptively weak, but it has a hidden power. First, it's Vargattama, which means that the planet is in the same sign in both Rasi and Navamsa. In Navamsa there's also a Raja Yoga, because Mars is the lord of the 2nd and 9th house there, and Jupiter in the lord of Lagna. Secondly, Jupiter is in Satabhisha Nakshatra, whose lord is again Rahu. And Rahu has already proved to be a bless-giving graha in this horoscope. And lastly, Jupiter in in A10 and aspected via Rasi Drishti by AK, DK and PK from Libra. Now you see that Jupiter has a very good potency to make its Dasa fruitful.
DiCaprio got an Academy Awards in February 2016, when Jupiter \ Rahu dasa was running. There's no need to justify the significance of Rahu Antardasa here. Whenever an event takes place, we need to see what were the transits on a given date. In February 2016 Jupiter was transiting Leo sign along with Rahu. That's the 12th house from Lagna, but don't be confused here. If you open Ashtakavarga, you'll see that this sign gets 35 bindu, which is more than an average number. It's always a good practise to check Ashatakavarga when analysing transits.
To conclude with, the horoscope itself is very prospective in terms of career success for an actor, especially given the stellium in the 2nd house, where Raja Yogas take place. There're also Yogas indicating the talent in stage performance, as well as combinations for not getting married. Try to find them and leave your thoughts in the comments.

Amber subscription
Chart management
Chart reports and interpretations
Horoscope matching
Vargas up to D-60
Varshaphal, Prasna, Muhurta
4 Dasas with up to Pratyantardasa
Basic Gochara and Panchanga search

Emerald subscription
Everything in Amber +
Transsaturns, Upagrahas
Vargas up to D-150 and all Chakras
Mathematical rectification technics
All Dasas with up to Sookshmadasa
Full-featured Gochara, Muhurta, Panchanga search
Detailed Ashtakavarga calculation, Shadbala

Ruby subscription
👉 Leonardo DiCaprio. A story of success in Rahu and Jupiter Mahadasa
You may also like